Search Posts


Subscribe
Recent Posts

Wednesday, 19 November 2014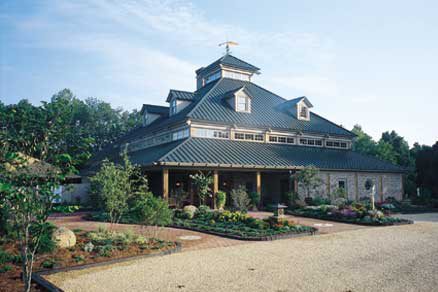 I was in the old Bob Timberlake Gallery in uptown Lexington to buy a print for my father for Christmas. Bob mentioned that he was going to build a gallery that would communicate warmth and nature and he said he had a piece of land picked out, and asked if I would meet with him and his architect on the site where he planned to build to discuss his vision. Prior to that meeting Bob and I met about a dozen or more times at a little café at 7:00 am over breakfast to talk about his ideas. He made a lot of drawings on napkins; I still have some of these drawings. He drew his conception of what he wanted the gallery to look like.
Finally the day came when we met with his architect on the site, and we walked around the site looking at the 150 year old trees. Bob said he would like a gallery that would blend with the trees and their coloring, and asked if we could make something that would make the gallery look like it had been part of the scene for a very long time. He wanted a place that when people came, they would not want to leave. He achieved that with the help of Old Carolina Handmade Brick.

We chose a brick color but he wanted to introduce some other colors and textures to add warmth and a look that he had dreamed of but had never seen in an actual building before.

So we at Old Carolina Brick got busy. We felt that we had the perfect brick, Savannah Grey, and Bob thought it was a great start because it looked like the old ballast brick in Savannah, but asked if we could add to the mix so that it would also have the flavor of Charleston, essentially a Savannah/Charleston mix. We made a field panel of about 100 brick with about 10% black clinkers and used a light-colored, Charleston-style mortar. I said we would have to call it the Timberlake Blend. Bob said, "Let's call it the Garden Path Blend." Bob liked it, but said, "I just don't want to have plain brick; I want to introduce some distinctive, original accents. So from an early drawing on a napkin, we made a 8 X 8 brick with the Whig's Defeat design that wrapped around the building two feet from the ground. In the walks he wanted a plain 8 X 8 Dutch paver; we made special wall copings to cap the courtyard walls; in the courtyard he wanted circular Roman pavers that would resemble cobblestones; on the shoulders of the large triple fireplace in the center of the gallery he wanted to use a diamond-shaped design in relief, which he also used on the courtyard walls. On one side of the fireplace is a duck design; on the other is a canoe with Native Americans. All these designs had to be carved and made into moulds. For the entryway to the gallery leading to the front door, Bob wanted a diamond Dutch paver which is four larger brick with a diamond shaped glazed brick in the middle. He asked for dog tracks in these pavers leading to the front door. Brian Cleveland, Plant Manager, and I took our dogs to Old Carolina Brick and gave them vanilla wafers to make them walk across the diamond Dutch pavers before they were fired.

In my 50 plus years in the brick industry, the gallery is certainly one of the most interesting, challenging, and enjoyable projects I have ever had the pleasure of working on. We have sold many thousands of brick all over the US and even in Brazil to people who have visited or seen pictures of the Bob Timberlake Gallery. 
If you would like to discuss a project with us or have any questions about our brick, we would be glad to speak with you. Call Us 1-800-536-8850 or Contact Us Here

Posted on 11/19/2014 9:11 AM by Art Burkhart
Comments
No comments yet.